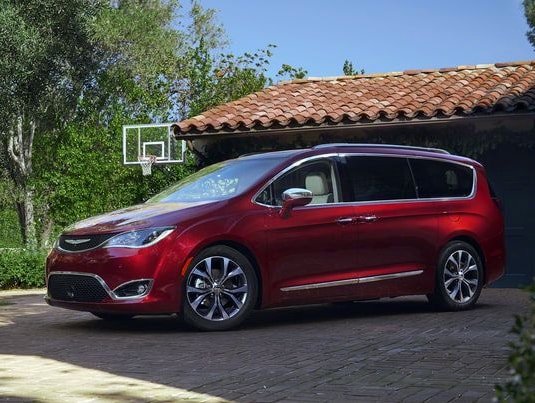 At Bruner Chrysler Jeep Dodge RAM, we always want the best vehicles on the market on our lot. One of the newest cars at the dealership is the 2017 Chrysler Pacifica. We are excited about the brand new addition to the Chrysler minivan platform, and we want to give you a rundown of all that this vehicle has to offer.
The 2017 Pacifica has branded itself as a car for the future, trying its hardest to emulate the Starship Enterprise. Each row has USB outlets, and the basic package has a 5-inch U-Connect touch screen with the premium models adding more, including a two-screen theater for the back seats that can be connected with compatible smartphones, tablets and gaming devices.
Under the hood, the Pacifica sports a 3.6-liter, V6 engine, which means it will handle any family trip or work day. For those who want something more environmentally friendly, Chrysler is offering a hybrid version as well. This engine also means that the Pacifica can tow more than most minivans, with the ability to pull as much as two Jet Skis.
Building on the Town & Country, the Pacifica's interior is spacious, with the designers calling it a family room on wheels. The large inside means that the Pacifica can fit eight passengers and have the ability to carry an 8 x 4 sheet of drywall in the back with the newly revamped Stow 'N Go seats folded down.
Chrysler is offering the Pacifica in five different models, with the entry-level LX starting near $28,595 and the premium Pacifica Limited around $42,495. Standard on every vehicle, the Pacifica has a rear backup camera, hands-free calling options, six Harmon Kardon speakers and 5-inch touchscreen dash panel.
If you think it is time for a new car and that a Pacifica may be right for you, stop by! Bruner Chrysler Jeep Dodge RAM has been serving the community for over 40 years, and we want you to be our next customer. Stop by our dealership in Stephenville or call us at (877) 744-5416 to see what we can do for you!